The Beginning:
Once upon a time, circa 1999, a Christian family of five bought a house and land out in the Texas countryside. They were ill prepared for what lay ahead. The eldest daughter got married and moved to live with her husband, leaving the remaining four to slowly rebuild their property from the ground up. It would be a task that would seem, and probably is, never ending.
Rampant Raven Ranch was started in the spring of 2006 with one horse. Within weeks, another horse, and six Boer/Spanish goats were added. Two llamas and ten Black Sex-link hens also made their way to our place. Now, almost four years later, we have a fluctuating herd goats, over a dozen chickens of four different breeds, two horses, and a llama. We are constantly expanding and trying new ways to improve our animals.
We are located in Lampasas County Texas on twelve fenced in acres full of oak trees. And rocks. Lots of rocks. Sometimes, we scream because of all the rocks. Do you want our rocks?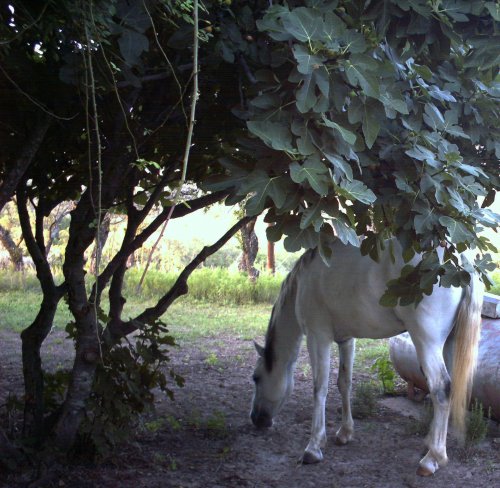 The Four Requirements
We have four groups of requirements our breeding stock must possess: breeding, conformation, health, and personality.

Breeding: For does, the doe should be able to successfully bring kids to full term without complications and feed them as long as her nutritional needs are met. She should have a well-attached udder and be able to produce high-quality milk for at least six months if a meat breed and a year if a dairy breed. The doe should not abandon any of her kids, even when having triplets. After the first pregnancy, the doe should no longer have singles. The doe should be able to raise her kids in a motherly and protective manner.

For bucks, the buck must be a proven stud if over a year old, and have sufficient vigor with the ladies. Breeding should not tax the buck overmuch. Ideally, the buck's lineage should be a prolific one. He should have two large and well attached testicles of nearly equal size. Beards are cute.

Conformation: The goat should be "long", not "square", with a long back and wide body. Its neck and shoulder should be squarely and strongly attached, with the front legs straight and all hooves pointing forward. The back should be as flat as possible. The hindquarters should be muscular and large. The hind legs should not be over or under angled. All of the legs should possess thick bone. The head should be attractive to the eye with wide-set horns and well attached ears. The most important factors are length and width.
Health: The goat should be able to thrive on minimal nourishment, unless pregnant or lactating, and not easily fall prey to illness. Worming should only have to be done once or twice a year, maximum. The hooves should not grow overly fast and have to be trimmed more then two or three times a year, and should not be susceptible to injury or mutation. The goat should prove to be a hardy, heat tolerant animal.

Personality: The goat should enjoy being around people and being loved by people. It shouldn't be aggressive under any circumstance. It should be easy to catch out in the open if necessary.

Contact Information:
If you wish to know anything about our animals or our ranch, please contact us.
By phone at 254-319-6031 between 10am and 8pm. Please leave a message if Rebecca is not available, as she isn't allowed to answer her phone while in a college class. She will get back with you as soon as possible.
Appointments are usually scheduled for Friday or Saturday morning, particularly in the summer.

By email at teitnl@aol.com. We will try to respond to your emails as quickly as possible.